LEVEL 7 PG DIPLOMA IN DATA SCIENCE
The new Data era has arrived. Data science has become a key fourth generation profession with the advent of cloud computing, big data and artificial intelligence. Data science is one of the most promising modern Science in the third millennium. The necessity to manage, analyse and extract knowledge from data is inescapable across industry, government and academia, thus the field of data science has arisen to address the explosion of data and the need to manage and understand it. Aston International Education offers best data science training in Dubai. If you are searching for a right institute for Data Science Coaching, Aston International Education is your choice.
DATA SCIENCE TRAINING IN ASTON DUBAI (UK PG DIPLOMA)
– Develop programming skills in Python and SQL programming Languages
– UK Curriculum
– Direct entry in to final year of UK Masters
– WES Approved (120 Credits)
– Duration – 4-5 Months
– One to One Classes
– Flexible timings
– Classes taken by Industry Experts.
– Industry based Project Training. 
– Assignments based on learners working/interested industry
– People looking for career change need to do a live project 
– Assignments for each module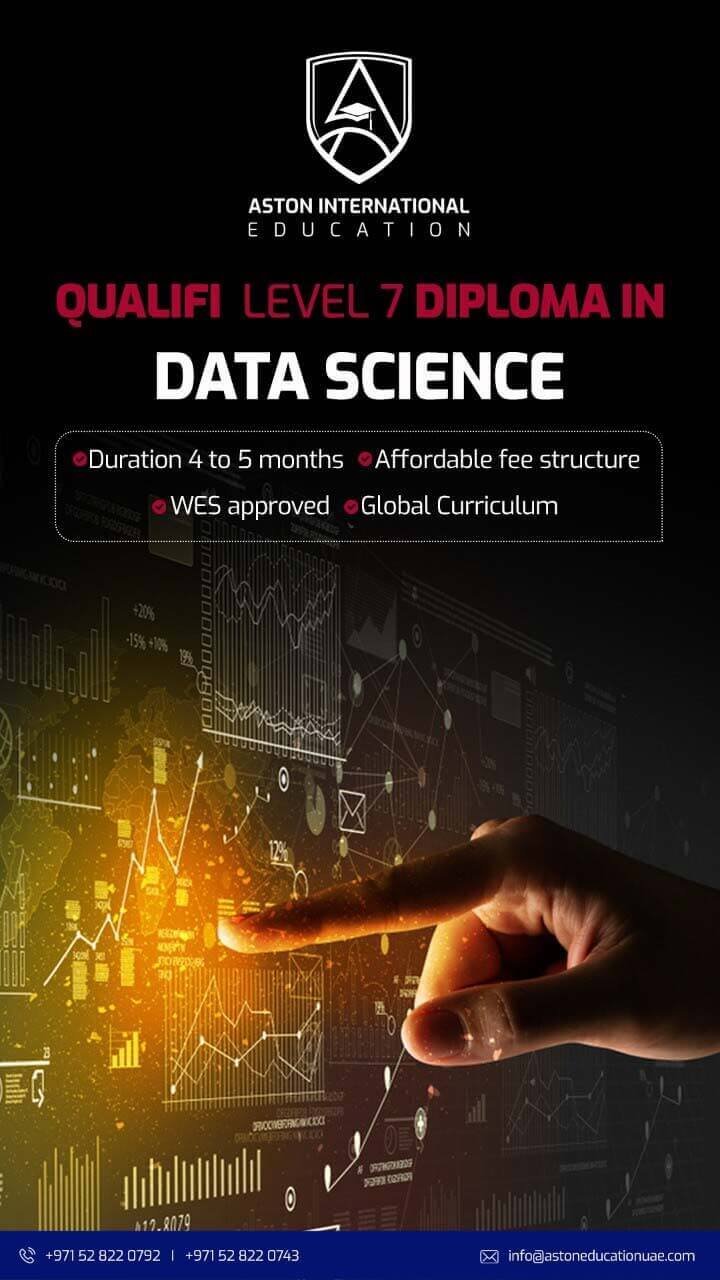 LEARNING OUTCOMES
ENTRY REQUIREMENTS
DURATION
UK DEGREE in 1 YEAR*
CURRICULUM
LEARNING OUTCOMES
– The learner will be able to carryout basic and advance data analysis with the knowledge gained in mathematical and statistical field
– The learner will have proficient skill in R, python and SQL programming language, enabling them to carryout data analysis to an advanced level.
– The learner will be able to evaluate, structure and clean data for analysis.
– The learner becomes conversant with the use of tools and techniques used in data visualisation.
 – The learner will develop a comprehensive knowledge of classical data analytics, including statistical interference, predictive modelling, time series analysis and data reduction.
– The learner will understand, evaluate and apply data science and analytics within business and organizational contexts. 
ENTRY REQUIREMENTS
DURATION
UK DEGREE in 1 YEAR*
CURRICULUM
G. Padmanabhan Paddy
16/09/2022
If you are searching for the complete Data science coaching in Dubai, then Aston is your right choice. I have completed my pg level 7 diploma in data science and I am confident on all aspects of the subject and I have done a live project based on machine learning as a part of the my MBA project.
Nickty R Dersh
16/09/2022
I have searched for major data science training institute in dubai and I finalized with Aston because of the quality of their services. With Astons level 7 diploma certificate in Data Science I mastered python language and I am doing final year of UK masters.
One of the greatest options for working individuals seeking UK education in Dubai is the Level 7 PG diploma and UK MBA program offered by Aston International Education.
I would highly recommend Aston International Education for those who are searching for business management courses in Dubai. I have got job promotion after completion of my MBA degree from Aston. Thank You Team 🙂
I am doing my level 7 Post Graduate diploma in data science from Aston International Education, Dubai and I am really satisfied with the classes and the service. They provide training for all aspects of data science like Exploratory Data Analysis, Statistical Inference, Advanced Predictive Modelling and Machine Learning and classes are so flexible. Good job Team. All the Best. 🙂
Aston is one of the top educational institutions in Dubai offering level 7 PG diploma.
Excellent Business school for level 7 PG diploma in Dubai
sreelakshmi V A
13/08/2022
Aston international education is one of the best business schools providing level 7 PG diploma in Dubai
Nandana Prashand
12/08/2022
anju prabhakar
12/08/2022
By completing this form a personal advisor will call you to answer your questions and guide you through the application process.